We have consistently aimed to share timely and accurate information for India and United States stamp issues with our readers. The joint stamp issue between India and Portugal is no exception. Information on this joint issue has been shared on BetterPhilately's twitter feed for almost a year now. The first update in January 2016 was about the planning and issuance of the joint issue to celebrate 500 years of Indo-Portuguese contacts. Kushal Vashisht, Director of Philately at India Post had traveled to Lisbon in 2015 to discuss the joint stamp issue with Portugal's CTT.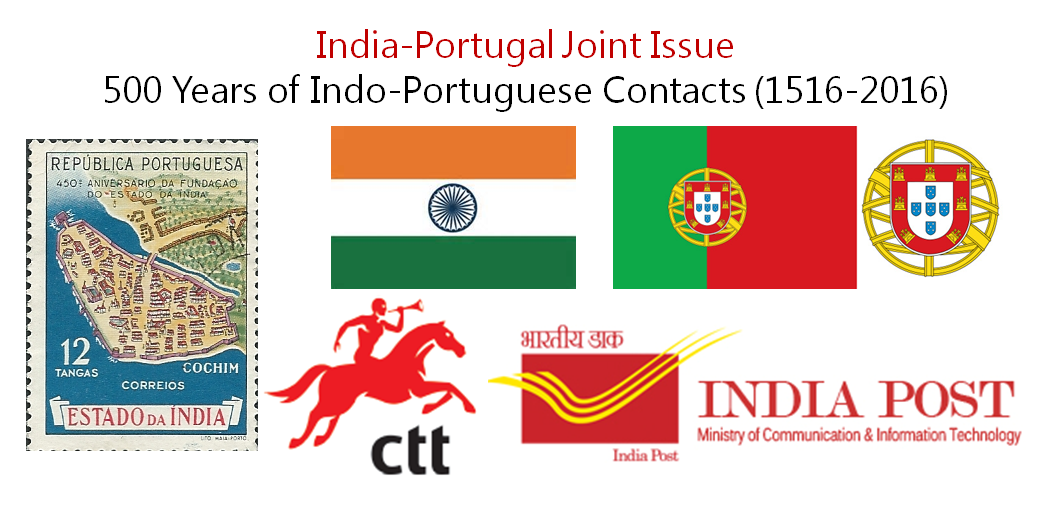 Then it was reported on 05th July 2016 that the theme of the joint stamps will be folk dances. The Cabinet of India was apprised of the joint issue and that's when it was confirmed that Dandiya Dance of Gujarat will be featured on one of the stamps. BetterPhilately was then first to report the originally planned stamp dedication date of 26th September 2016 and that other dance to be featured on the stamps would be Portugal's Pauliteiros de Miranda. The theme of these stamps were selected based on the deep folk roots in both countries and the two dances representing many similarities. Both dances use sticks as props representing swords and are warrior dances. This information was confirmed by both the postal administrations until the release was eventually postponed to January 2017. This was likely done to coincide the stamp issuance with a bilateral meeting between the Portuguese and Indian Prime Ministers.

Now we are happy to share images of the stamps from Portugal. Portugal's Post Office will issue two stamps featuring the two folk dances along with a miniature sheet on 07th January 2017. Cancellations designs for the Portugal stamps were made available in mid-December 2016 and were reported on many Portuguese philately blogs as well.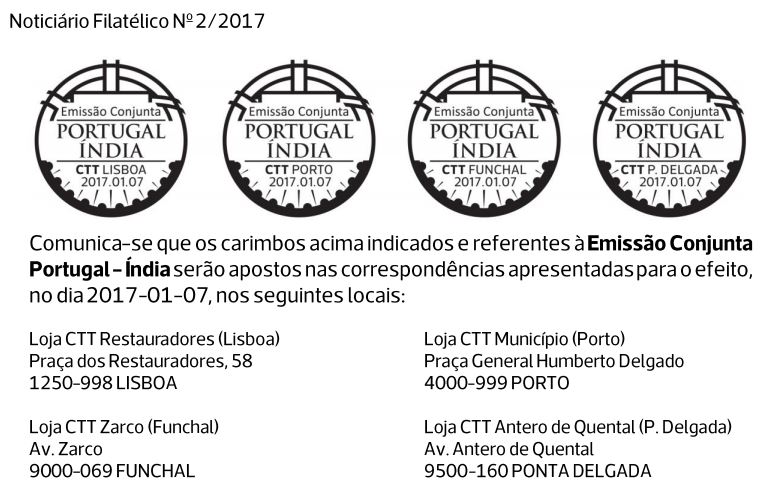 Note: Please cite the source of these images when posting on other social media platforms. We thank you for supporting this blog.
Update (15 Jan 2017): These stamps along with the designs from India Post were issued on 07th January 2017, as planned. The ceremony was held at Hyderabad House in New Delhi during the signing of agreements between India and Portugal. Below are the images for the Indian stamps. We also found that the Pauliteiros stamp was designed using a watercolor painting by Miguel Schereck, which is likely at the
Museu da Terra de Miranda
(Museum in Miranda do Douro, Braganca). We are still waiting on additional information about the designer from the Indian side, but it appears that the painting for India's Dandiya dance was made using the one by Miguel Schereck as a template.
Update (06 Feb 2017): Here are images from the Portugal India joint issue stamps and information sheet. CTT issues two postage stamps, one souvenir sheet, two FDCs and one information sheet (with cancelled stamps and souvenir sheet). This covers all information related to this joint stamp issue, which was under planning and execution for almost 2 years. Enjoy.