Update 6 on 29 May 2016: One more of the four remaining definitive stamps - on Gopinath Bordoloi - in the Makers of India series is available for purchase on ePostOffice. It was likely supplied to post offices from mid-April 2017. Just three more stamps are pending to be issued to complete the series. There was discussion in the philatelic community about new Makers of India postcards and inland letters as well, but nothing has been seen so far.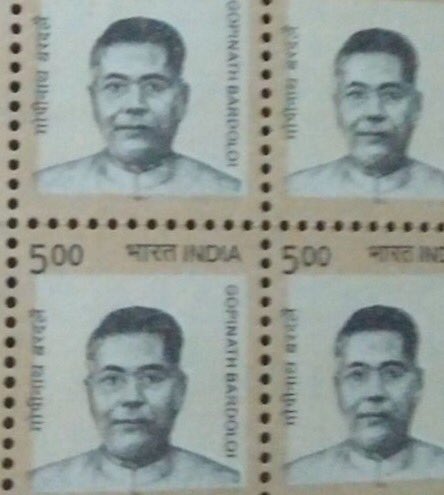 Update 5 on 18 Dec 2016: It's been quite a while since this post was last updated. The key points to note is that most of the stamps, except four of the planned 27 stamps have been issued and available for purchase on ePostOffice or at the local post offices. The stamps that were put on sale in the second and third quarter of 2016 are listed below along with the ones that are yet to be issued. We urge India Post to put the remaining four stamps in circulation as soon as possible, to complete this new definitive series.
Released Q2 2016 onward
Bhimsen Joshi
Dr. B. R. Ambedkar
Jawaharlal Nehru
Maharana Pratap
M. S. Subbulakshmi
Sardar Vallabhbhai Patel
Subhash Chandra Bose
Pending stamps
Gopinath Bordoloi
Mother (Saint) Teresa
Rabindranath Tagore
Thiruvalluvar
Update 4 on 01 Apr 2016: A lot of the definitive stamps in this series are now available across many post offices and even online at ePostOffice. Just posting an update to the grid/list below. Green indicates that the stamp has been sold at at least one post office in India. Although not technically sound, it appears to be an overall good decision to have started a new definitive stamp series. It has a much needed freshness to it. Happy Collecting!
Update 3 on 23 Jan 2016: Sharing an image for 19 of the definitive stamps for this new stamp series. Only a handful of them (8 more) remain to be seen. Some of these might be available soon. Let's go looking for these stamps on mail or in local post offices.
Update 2 on 18 Dec 2015: Here's a major overhaul of the Makers of India Stamp Series. Below is a final version of the stamp series with a total of 27 personalities and one Yoga stamp. The denominations for all the stamps is shown as well. Better Philately is most likely the first source of this information for philatelists. Happy Holidays!
A few points of note:
1. Gopinath Bordoloi has been included in the stamp series, so have Srinivasa Ramanujan, Lal Bahadur Shastri and Thiruvalluvar.
2. Karpuri Thakur no longer features on the final list.
3. An additional stamp on Yoga (25 Paise) will also be released along with the personality series. There was even a mention of inland letter cards or airmail letter cards with the Yoga theme as well.
4. There will be no 2 Rupees or 15 Rupees stamps in this definitive series.
5. Removed references to release dates. Neither official dates for first day of issuance are being announced nor first day covers are being provided. So, it doesn't provide a fair opportunity to know the stamp release date for this series.
Update 1: Added Bhagat Singh, Shyama Prasad Mukherjee, Moulana Abul Kalam Azad and Ram Manohar Lohia stamp date and denomination. Appears to be an odd move to release a bulk of the new stamps in 5 rupees denomination.
As a response to the less representative Builders of Modern India stamp series, a new one is being put in place. As of early December 2015, seven 5 Rupees stamps have already been released. This new list has not been put out officially, but is a guess based on news information in the last few months. Mainstream media had enjoyed a week long spectacle when the Indira and Rajiv Gandhi stamp sales were halted in July 2015. Government officials presented their case during this time and provided insight into this new stamp series as well. Three of the guesses have so far been accurate based on this list. Additional updated for first known sale date will be added as it becomes available. There will be no first day covers (FDC) or an official release date for this series of stamps, so one has to be content with approximate release dates based on first availability of the stamps in post offices.
The number of personalities, presumably to be honored with the new stamp series is more than twice the previous definitive stamp series, but appears to cover a wider range of historical figures, political, social and spiritual leaders. Although more representative it is still missing a sports personality, a representative of North-East India and and an industrialist. If given a choice, the following should be included as well:
Dhirubhai Ambani, Aurobindo, G. D. Birla, Gopinath Bordoloi, Dhyan Chand, Satish Dhawan, Tenzing Norgay, Dadasaheb Phalke, Munshi Premchand and Vikram Sarabhai.
Although, not ideal, the best way to enable a larger series of stamps could be by printing limited quantities for each personality. This would prevent from a glut of the definitive stamps in post offices and could end up adversely impacting sale of commemorative stamps as well. Many post offices tend to sell overstock commemorative stamps along with the definitive stamps to remove dead stock and also provide variety to customers. Anyways, given that the new stamp series was initiated so soon after the public discussion, a blog post for initial thoughts and a way to track progress of the Makers of India stamp series seemed appropriate.
Makers of India – Eleventh Definitive Stamp Series (2015 onward)
Contribution to Making India

Indian Independence – Home Rule League

Arts & Culture (Shehnai Player)

Arts & Culture (Sitar Player)

Indian Independence – Socialist Republican Association

Total Revolution of 1970s

First Home Minister/Deputy Prime Minister

Integrated 600 Small States

Pre-Independence National Army

Indian Philosophy – Vedanta & Yoga

Founded Bharatiya Jana Sangh

Ancient Tamil Poetry & Philosophy

Warrior & Ideal Rule of Maratha Empire

Gallantry Warrior & Rule of Mewar Empire

Catholic Religious Sister